How to choose a guitar combo

To play the electric guitar, you need to plug it into a guitar amplifier. We consider guitar combos or guitar amplifiers connected to a speaker to be such guitar combos. Since there are several types of guitar combos, we'll make it easier for you to buy one with this "how to select a guitar combo" guide.

A guitar combo is a device that combines an amplifier and a speaker. A combo is a simple path to your future sound. Simply plug it in a socket and connect it to the guitar with the instrument cable and start playing it.

TIP FOR BEGINNERS:
If you are a beginner and you are looking for your first combo for home practice, we recommend getting a transistor combo with a power output of 30 - 50 Watts. This combo will be quite satisfactory for a beginner. If needed, our experts will be happy to help you make up your mind at the telephone number 020 8089 1481 ( Mon–Fri 9:00 a.m.–4:00 p.m.) or at the email address .

Division of guitar combos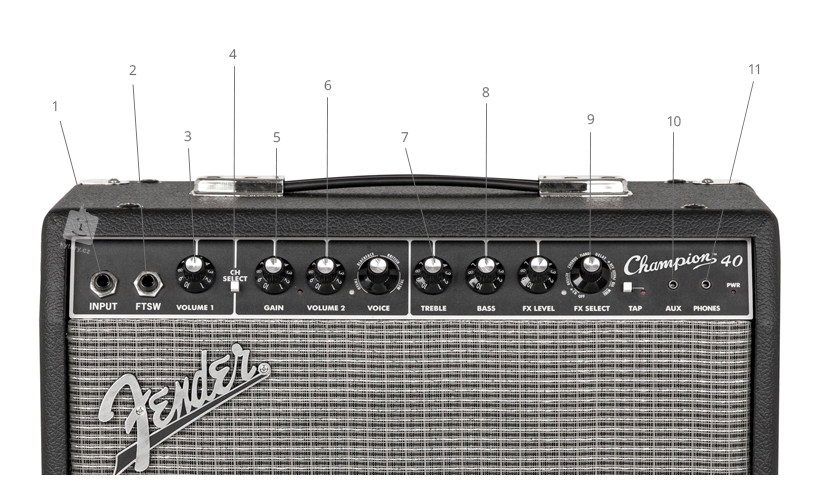 1 - Guitar input
2 - Footswitch input
3 - Channel 1 Volume
4 - Channel select switch
5 - Channel 2 distortion
6 - Channel 2 Volume
7 - EQ - treble
8 - EQ - bass
9 - Effects
10 - Media player input
11 - Headphone output
Choose according to the number and size of the speakers
Different-sized speakers produce a different sound. While smaller speakers will be more specific at higher frequencies, larger speakers are better suited to low bass frequencies. In general, a combo with a larger speaker or more speakers will have a fuller sound.

The speaker diameter in guitar combos and speakers is always given in inches. The absolute standard is a combo with one twelve-inch speaker, which is therefore marked as 1x 12 ". In smaller combos you will find a 1x 10" speaker, on the other hand more powerful ones can have 2x 12" speakers.