£219.00
Price incl. VAT 20%
Other product variants

Powered Studio Monitor | HN115967
In Stock
Power Output: 50 W LF Driver: 4.5 " HF Driver: 2 " Frequency Range: 60 Hz - 50 kHz Max. SPL: 106 dB Input Ports: XLR, RCA Quantity: 1 Colour: Black Dimensions: 252x150x185 mm Weight: 4.6 kg Speaker: 4,5 " UK Plug: No
Powered Studio Monitor | HN133909
On Display
Power Output: 200 W LF Driver: 8.5 " HF Driver: 2 " Frequency Range: 38 Hz - 50 kHz Max. SPL: 120 dB Input Ports: XLR, RCA Quantity: 1 Colour: Black Dimensions: 400x255x320 mm Weight: 13 kg Speaker: 8,5 " UK Plug: No
Powered Studio Monitor | HN117684
In Stock
Power Output: 100 W LF Driver: 5.5 " HF Driver: 2 " Frequency Range: 50 Hz - 50 kHz Max. SPL: 110 dB Input Ports: XLR, RCA Quantity: 1 Colour: Black Dimensions: 280x170x220 mm Weight: 6.6 kg Speaker: 5,5 " UK Plug: No
Powered Studio Monitor | HN113402
In Stock
Power Output: 150 W LF Driver: 7 " HF Driver: 2 " Frequency Range: 42 Hz - 50 kHz Max. SPL: 114 dB Input Ports: XLR, RCA Quantity: 1 Colour: Black Dimensions: 337x201x280 mm Weight: 9.2 kg Speaker: 7 " UK Plug: No
Central Warehouse In Stock 2 qty
Save more money when you order this product in a package set.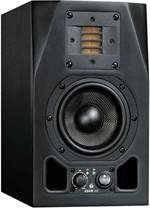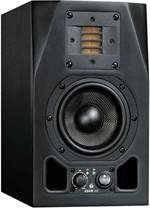 discount up to


3 %
Order as a set
With the A3X, ADAM Audio present their smallest monitor to date, making it perfectly suited for all environments where space is limited but sound shouldn't be constricted. The A3X combines a tiny footprint with the much acclaimed ADAM sound quality by using the X-ART tweeter for the higher frequencies, a guarantee for crystal clear music reproduction.

A 4.5" (basket) driver handles the lower registers. The diaphragm is made from carbon fiber, a material that is very light but very stiff and therefore capable of delivering colouring-free sound. Two built-in 25 Watt amplifiers powers each of the drivers directly.
Specifications
Power Output: 50 W
LF Driver: 4.5 "
HF Driver: 2 "
Frequency Range: 60 Hz - 50 kHz
Max. SPL: 106 dB
Input Ports: XLR, RCA
Quantity: 1
Colour: Black
Dimensions: 252x150x185 mm
Weight: 4.6 kg
Speaker: 4,5 "
UK Plug: No