The recorder is an ideal instrument for all children, and is often the first one that kids play in their musical careers. We'll be happy to help you pick the first recorder for your child. If you would like to talk with our experts about choosing a children's recorder, call our toll-free line at 020 8089 1481 ( Mon–Fri 9:00 a.m.–4:00 p.m.), or send us an email to .
TIPS FOR BEGINNERS:
The most common recorder for children, and the one also required by all teachers, is the soprano recorder with English (Baroque) fingering. All other types of recorders are special and are intended for more experienced players or those who specifically require them.
The positive influence of playing on a child's health
All musical instruments and music lessons have an enormously positive effect on the development, intelligence and mental health of children. The recorder also strengthens the diaphragm muscles and expands lung capacity. Playing the recorder is also relatively simple. Children learn their first songs in a few lessons, which increases their motivation. The low cost of recorders and their small size are further advantages. Recorders are simply the ideal instrument for children.
Don't be afraid of plastic
Today's plastic recorders are very high quality and offer full-fledged sound; children learn well with them. The great advantage of plastic recorders is that they are easy to take care of and can be simply washed with water. As mentioned above, buy your child a soprano recorderwith English fingering. You can't go wrong with Smart or Aulos recorders in the price range of Ł 10-20.
Number of parts
Choose recorders composed of three parts) (this information is provided in the description of each recorder – below in the 'Parameters' section Three-part recorders are ideal because the lower part can be rotated to allow children to reach the bottom hole with their little finger.

Recorder accessories
We offer a range of handy accessories to go along with your child's first recorder, including mouthpiece brushes, bags (if not included with recorder – see description) and cases. You can find all of these accessories here. If your child will practice at home, they will need a note stand.
Books and sheet music
Traditional sheet music for the recorder is available here. The most popular sheet music for the soprano recorder includes the books Flauto Dolce, which you can also find here.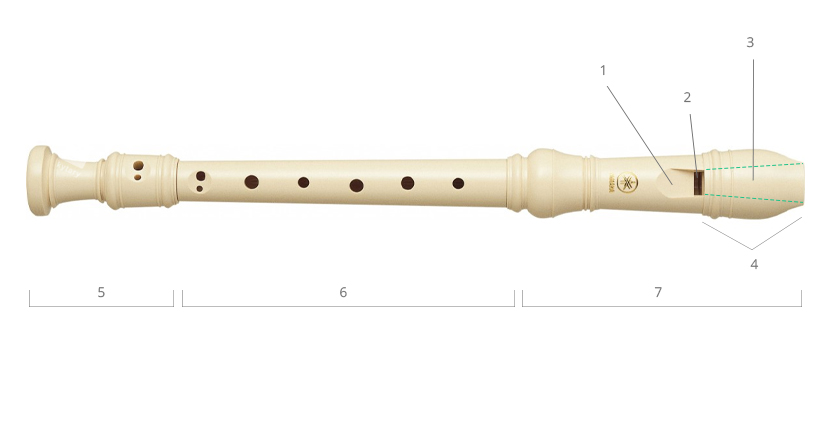 1 - Window
2 - Labium
3 - Windway
4 - Block
5 - Footjoint
6 - Body
7 - Headjoint