How to choose guitar effects

The vast majority of electric guitarists play with guitar effects, which serve to modify the sound of the guitar and to enhance the playing experience. These accessories come in the form of a box connected between the electric guitar and the amp or guitar combo. Switched on, this box modifies the signal coming from the guitar so that the new sound is played out of the speaker.

TIPS FOR BEGINNERS:
The most popular and widely-used effects are 'distortion' boxes. These effects distort electric guitars to produce the quintessential hard rock and heavy metal sound. An undistorted electric guitar essentially sounds similar to an acoustic guitar.
Call 020 8089 1481 (Mon-Fri, 9 a.m.- 5 p.m.) and our experts will be happy to help you choose the right instrument; you can also send us your questions by email to .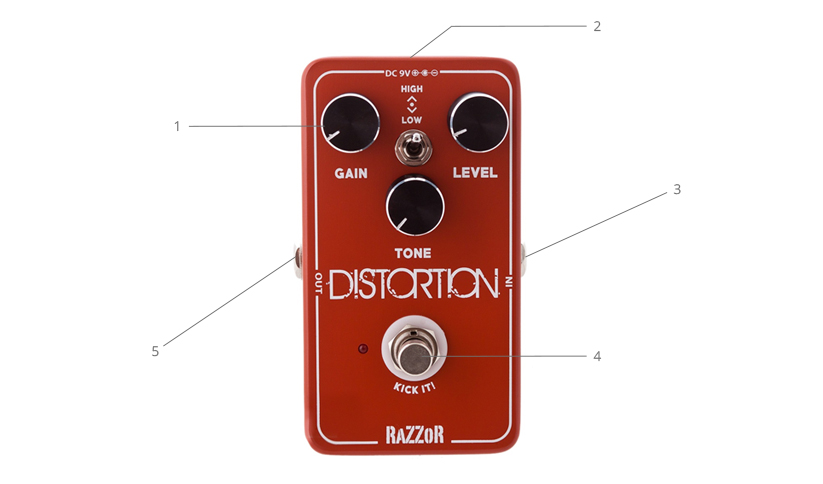 1 - Effect potentiometres
2 - Power source connector
3 - Input jack (guitar)
4 - Footswitch
5 - Output jack (to amp)
The basic categories of guitar effects:
Accessories
When buying guitar effects, don't forget important accessories that will come in handy, especially the cables you will need to connected the individual effects to one another. When choosing an effect, check to see if it comes with an adapter (we provide this information in the product description) or a 9-volt battery (standard). If you plan to use more effects at the same time, a multi-adapter allowing you to connect multiple boxes will be useful. To use multiple effects you will also need a pedalboard, i.e. a case to which you attach the effects so that they are always ready and connected in the proper order.